A limited submission is any funding program that limits the number of proposals that the sponsoring organization or agency will accept from an institution, or a program that requires institutional nomination. In these cases, the University runs an internal selection process to identify the institutional nominee(s). This internal selection procedure is explained below.
All limited submission competitions catalogued in the below table are also announced via email, sent from limitedsubmissions@columbia.edu. Please add this address to your email client's Safe Sender list to ensure that you receive future correspondences.
For more information regarding Columbia's limited submission selection process, please view the corresponding information sheet here.
Current Limited Submission Programs
The Office of Research Initiatives is currently accepting internal applications for the following programs.
Recently-Closed Limited Submission Programs
The Office of Research Initiatives has stopped accepting internal applications for the following programs.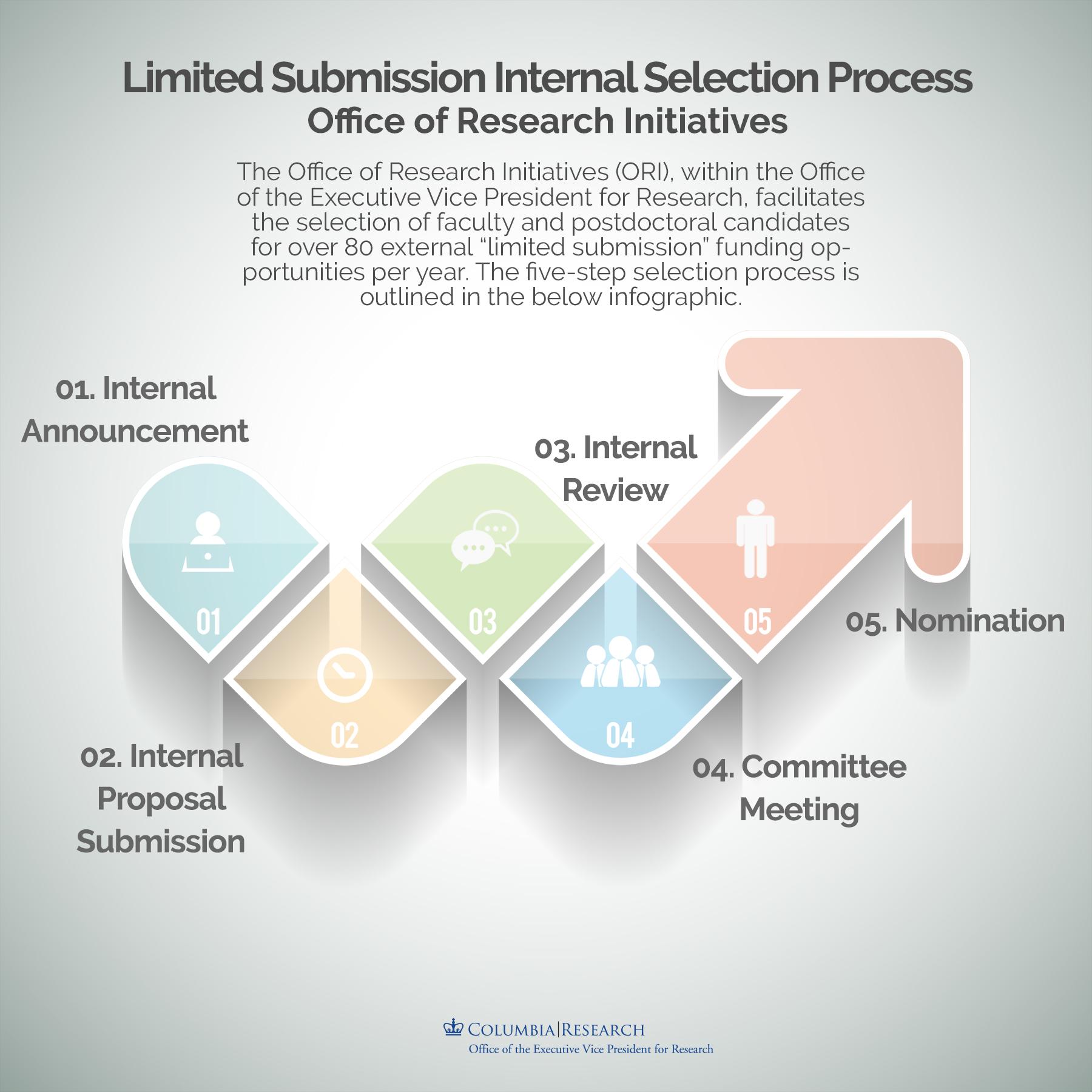 Process Overview
Upon being notified of the funding opportunity, ORI converts the RFP into an internal announcement for potential applicants: Succinctly identifying what the program offers, who is eligible, and the internal application requirements. ORI aims to strike a balance between requiring as little upfront work from the PI as possible, while still allowing the internal review committee to identify the most competitive candidate(s).
These announcements are distributed via an individually tailored contact list drawn from HR data, and from the email address limitedsubmissions@columbia.edu. Please add this address to your email client's Safe Sender list to ensure that you receive all future correspondences.
In addition to being dispatched via email, all open funding opportunities will be posted atop this webpage. Please Bookmark (Ctrl-D) this page and check back regularly for updated information.
Please Note: In situations where ORI suspects that the number of internal candidates will not exceed the number of nomination slots allowed by the sponsor, ORI may test this assumption by first requesting an Email of Intent. If more candidates communicate intent than there are nomination slots, ORI will revert to the standard internal selection process.
Internal candidates submit their proposal for consideration for institutional nomination. Internal proposal submissions are confirmed within 24 hours of receipt. All eligible proposals are assembled into a master review binder; an example of this master binder can be viewed here.
ORI assembles an internal review committee that spans the disciplines represented in the applicant pool. This committee is administered by ORI staff and strictly adheres to the Conflict of Interest Policy (below). In order to ensure the integrity of this process, reviewer identities are held strict confidence.
If there are more internal candidates than there are nomination slots, the internal review committee proceeds to the evaluation stage:
Reviewers independently evaluate each eligible proposal, and rank proposals according to their votes for institutional nomination.
Reviewers attend an in-person deliberation meeting, administered by ORI staff. During this meeting, the committee will identify the strengths and weaknesses of proposals, compare and contrast candidates, and finally identify the candidate(s) that should be nominated. The committee may optionally provide feedback for how nominees can improve upon their current proposal; the committee may additionally optionally provide feedback to candidates not selected for nomination, as well as encourage select candidates to reapply in a subsequent internal competition year.
The selected nominee(s) is notified and connected with the assigned Project Officer within Sponsored Projects Administration (SPA). Unsuccessful internal candidates are notified of the decision. If the internal review committee has specific feedback for any candidates, ORI staff will transmit this in the notification.
To ensure an objective selection process for limited submission competitions the Office of Research Initiatives has implemented the following policy.
Advisory committee members are required to disclose by email any potential conflict or, direct conflicts, such as a mentor relationship or joint publication or funding within the last three years. Unlike a tenure process, members of a limited competition committee are expected to be judges acting in the best interest of the University as a whole. If while further reviewing the internal proposals, one finds that a particular conflict is so substantial, we ask that faculty member to recuse him or herself from reviewing the applicant(s) with whom a conflict exists. Thank you for your understanding.
Some examples of conflicts from the NIH's Conflict of Interest Definition follow by way of guidance:
Professional Associates: Professional associate means any colleague, scientific mentor, or student with whom the peer reviewer is currently conducting research or other significant professional activities or with whom the member has conducted such activities within three years of the date of the review, including publications.
Longstanding Disagreements: A conflict of interest may exist where a potential reviewer has had longstanding scientific or personal differences with an applicant.
Financial Benefit: A reviewer shall have a real conflict of interest if he/she or a close relative or professional associate of the reviewer: (1) has received or could receive a direct financial benefit of any amount deriving from an application or proposal under review; (2) has received or could receive a financial benefit from the applicant institution, offeror or principal investigator that in the aggregate exceeds $10,000 per year (for reviewers who are federal employees the amount is $15,000 per year); this amount includes honoraria, fees, stock or other financial benefit, and additionally includes the current value of the reviewer's already existing stock holdings, apart from any direct financial benefit deriving from an application or proposal under review: or (3) has any other interest in the application or proposal that is likely to bias the reviewer's evaluation of that application or proposal.
Personal Relationships (Relatives): A close relative means a parent, spouse, sibling, son or daughter or domestic partner. A conflict of interest exists if a close relative of a reviewer submits an application or proposal, or receives or could receive financial benefits from or provides financial benefits to an applicant or offeror. In such case, it will be treated as the reviewer's financial benefit.
Frequently Asked Questions
The goal is to select a nominee (or nominees) who stand the best chance to be awarded funding. Internal review committees adhere to the evaluation criteria identified by the extramural sponsor through the careful analysis of the RFP. Internal proposals are compared and contrasted by how well they "fit" the sponsor's stated funding preferences.
Optimizing your chances for internal selection are directly correlated with activities that optimize your chances for obtaining funding from the external sponsor. In short, this requires meeting as many of the funder's stated priorities and objectives as possible. Think of funder preferences as a checklist: The more boxes that can be "checked," the more competitive your proposal will be in the eyes of the internal review committee. This can be done through careful analysis of the sponsor and RFP, and sometimes in consultation with select educational materials developed by ORI.
Some past candidates have been unsuccessful because they do not accurately consider or target the specific sponsor, and will repurpose an existing proposal without making sufficient edits and improvements to the existing narrative.
Some past candidates have adopted the strategy of disregarding the sponsor's stated priorities, in favor of a "let me tell you what you really want" approach. While the internal review committee frequently sympathizes with this desire, it will favor those proposals most responsive to the RFP's stated preferences.
ORI endeavors to provide constructive feedback to all candidates whenever possible, although in some circumstances we are restricted from doing so due to confidentiality issues and the internal review committee's willingness to provide this feedback.
Most internal competitions are extremely rigorous, with upwards of ten internal candidates vying for one nomination slot. ORI recognizes that this competitiveness is especially fierce for early-career faculty.
Internal review committees are "double blind," meaning that the discussions within and membership of one committee will not be known by members of another committee, and vice versa. If you apply for two internal competitions even within the same week, your candidacy in one competition will in no way affect your candidacy in the other.
Please don't give up.
ORI welcomes feedback, and is committed to administering an equitable process that is as transparent as possible, and which meets the needs of individual faculty and Columbia University as a whole. The current process has been developed through close consultation with research leadership and via benchmarking data from peer institutions. We recognize that there is always room for improvement.
If you have suggestions for improving the current process as outlined above, and/or if you have suggestions for other Frequently Asked Questions to add to this list, please email your suggestion(s) to researchinitiatives@columbia.edu.
This webpage aims to inform the Columbia community about its procedures for selecting a candidate (or candidates) for limited submission funding opportunities, and we invite you to explore the above explanations for each step in the process.
Additionally, the Limited Submission Information Sheet outlines this process in greater detail.
Finally, the Office of Research Initiatives is happily available to speak to you - or to you along with your lab, department, school, institute, etc. - regarding this process, and to answer any specific questions you might have. To arrange a presentation and discussion, please email mb3952@columbia.edu.