Solvent Recycling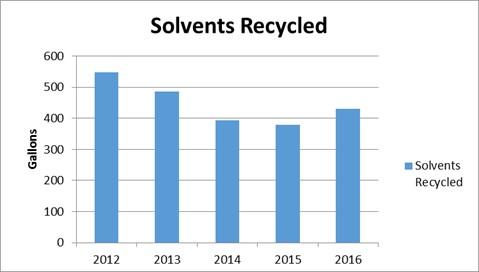 Solvent Recycling…Then and Now
Columbia University was awarded the Environmental Excellence Award from the New York State Department of Environmental Conservation in 2014 for the laboratory solvent recycling program at the Medical Center and Morningside campuses. Solvent recycling launched in early 2001, as the results of a partnership between EH&S and the departments of Dermatopathology and Pathology, focused on creating an environmentally sustainable program to reduce chemical waste, as well as annual expenses.

EH&S targeted ethyl alcohol and xylene in a variety of tissue-processing and staining procedures, due to their consistent, high volume use.  Following a successful pilot project to confirm that reuse of purified, recycled solvent would not have any impact on the quality of tissue processing activities, both laboratories went fully operational with recycling and have been doing so ever since.  With the success of the program at CUMC, EH&S launched two more solvent recyclers at the Morningside campus in 2008 and 2011, to accommodate the Department of Chemistry, and its more than 5,000 pounds of spent acetone used in laboratory glass washing operations annually, as well as smaller quantities of solvents in the Biological Sciences and Engineering Departments.

After successfully implementing solvent recycling in 2001, the benefits are clear: tens of thousands of gallons of solvents have been recycled and millions of dollars have been saved in traditional purchase and disposal cost.