Lamp Recycling
Fluorescent lamps are an easy way for individuals and institutions to reduce their energy consumption.  Fluorescent light tubes and compact florescent lamps (CFLs) are everywhere – in classrooms, hallways, laboratories, libraries and housing.  In line with the University's goals of environmental stewardship is ensuring that lamps are properly recycled and disposed at the end of their useful life.

To achieve the long life typical of fluorescent lamps, the lamps must contain a specific quantity of mercury in vapor form. The amount of mercury required is very small, typically measured in milligrams.  However, if lamps are broken or crushed in dumpsters, the mercury vapors escape into the atmosphere only to fall back to earth when it rains, contaminating the water supply, fish and anyone that consumes them.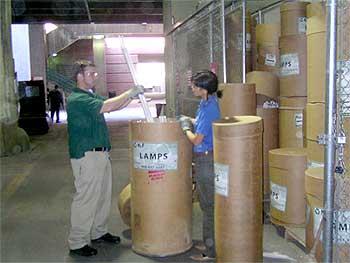 Through the University's Hazardous Waste Management Program, EH&S collects fluorescent lamps, as well as incandescent, high intensity discharge and sodium vapor lamps for recycling.  The process of lamp recycling not only ensures that mercury is recovered, but the glass and metal components to each lamp are also recycled.  To ensure all lamps are recycled, EH&S provides training to Facilities Management and Residential Operations for the proper handling and containerization of used lamps.  In March 2008 EH&S provided training and informational resources to building superintendents at "Go Green East Harlem!", a collaborative community initiative  sponsored by the Manhattan Borough President's office to promote safe environmental conditions in the community
EH&S's lamp recycling efforts not only focus on routine building maintenance, but also on construction/renovation projects from which large quantities of lamps can be collected for recycling.  Over the years, EH&S has recycled EH&S hundreds of thousands of pounds of used lamps.  As shown below, in the 4 years from 2007 – 2011, EH&S recycled nearly 132,000 pounds (approximately 60 tons) of lamps for recycling.  That's a lot of lamps.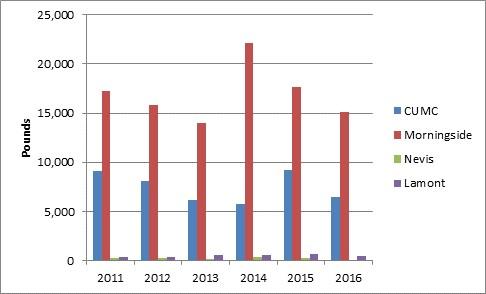 Q: How can I recycle my used lamps?
A: At Columbia, contact your campus Facilities Operations Office if you have a lamp that requires replacement.  Facilities will ensure that your used lamp is collected for recycling.  If your used lamp is from a personal use item (e.g., desk lamp) or part of your laboratory equipment (e.g., UV lamp in a biological safety cabinet), please contact EH&S for proper collection. 
  
Q: What should I do if a fluorescent lamp breaks?
A: Fluorescent lamps contain a very small amount of mercury sealed within the glass tubing.  The Environmental Protection Agency recommends specific clean-up and disposal procedures for compact fluorescent lamps, which is applicable for all lamps: http://www.epa.gov/cfl/cflcleanup.html

Last but not least…
Please help us protect the environment from mercury contamination by properly handling lamps at the end of their useful life.  Every waste item generated at Columbia University has an appropriate recycling or disposal program, so please take the extra effort to locate the proper container for your wastes.

Additional Lamp Recycling Information and Resources:
For more information on reuse, recycling, or environmental issues, please visit: http://www.ehs.columbia.edu or http://www.columbia.edu/cu/environment/index.html.
http://www.energystar.gov/ia/partners/promotions/change_light/downloads/Fact_Sheet_Mercury.pdf
http://www.dec.ny.gov/chemical/8787.html
http://www.epa.gov/cfl/cflcleanup.html
If you have additional ideas for reuse or recycling, please send your suggestions to:
envsafety@columbia.edu and environment@columbia.edu