Mercury Recycling
Heavy metals such as mercury, silver and lead are common in the academic and medical settings, but also have many common applications such as electronic equipment, thermometers, light bulbs and dental fillings.
In an effort to reduce the potential for contamination of the environment due to mercury, EH&S continues to pursue opportunities to remove and replace mercury containing devices with non-mercury devices as well as establish mercury recycling programs where the continued use of mercury is necessary.  As part of EH&S's mercury campaign, CUMC campus has exchanged over 400 thermometers for alcohol-based thermometers since 2002.  Over 75 thermometers have been exchanged at the Morningside campus and Lamont Doherty Earth Observatory has exchanged over 31 thermometers since 2007.  All thermometer exchanges are free of charge to the laboratories (compliments of EH&S).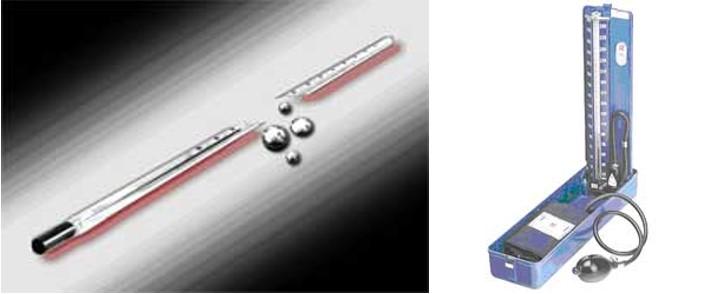 Other medical devices, such as sphygmomanometers (or blood pressure gauges) also contain mercury and can be recycled.  For example, W.A. Baum a supplier of sphygmomanometers offers a free exchange of mercury devices with the purchase of a non-mercury device.  During 2006 - 2007, through a partnership between the College of Physicians and Surgeons' Office of Curricular Affairs, the Department of Anesthesiology and EH& S over 17.56 pounds (7.9868 kilograms) of mercury was recycled through a sphygmomanometer replacement program.  In total, more than 60 sphygmomanometers were replaced/recycled, each containing 0.312 fluid ounces (9.2 milliliters or approximately 2 teaspoons) of mercury.  Through Columbia's combined mercury recycling initiatives, nearly 45 pounds (20.45 kilograms) of mercury has been recycled and kept out of the environment.
If you work with mercury containing equipment, such as mercury thermometers or sphygmomanometers, you should have a spill kit of a mercury spill.  If you are unsure of where to purchase a mercury spill kit or any other type of spill kit, please contact EH&S for further assistance.
As noted prior, mercury is also a component of dental amalgam fillings and accordingly EH&S has partnered with the College of Dental Medicine (CODM) to recycle dental amalgam waste as well as other metal-bearing dental waste.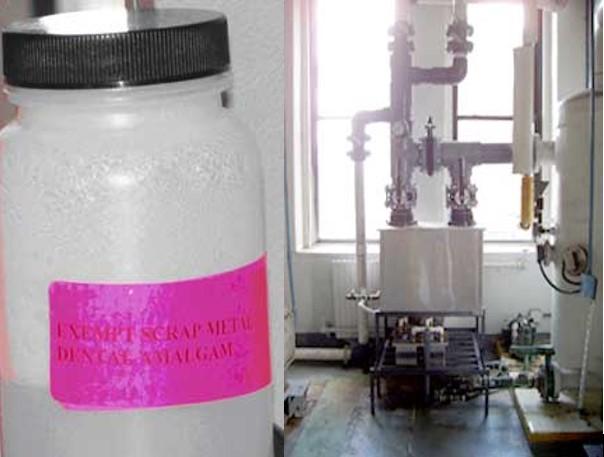 Dental amalgam contains a mixture of mercury with at least one other metal such as silver.  Commonly used dental amalgams are composed of 43% to 54% mercury; the remaining powder is made up of mainly silver (~20-35%) and some tin, copper (~10%), and zinc (~2%).  Dental amalgam is captured at CODM in bulk and placed in chairside collection container, or in smaller particles that get filtered in chairside traps that are also recycled.  Dental amalgam that is not captured chairside is filtered out of the wastewater through an amalgam separator and the trapped mercury-containing amlagam is sent for recycling.  In addition to mercury, CODM generates quite a bit of lead-containing waste from foil packaging used to protect dental x-ray film from inadvertent exposure.  In total, EH&S recycled more than 265 pounds of CODM materials recovered from dental amalgam chairside containers and traps and dental foils.  

Additional Mercury Recycling Information and Resources:

For more information on reuse, recycling, or environmental issues, please visit: http://www.ehs.columbia.edu or http://www.columbia.edu/cu/environment/index.html. 
United States Environmental Protection Agency guide to reducing mercury in health care:
http://www.epa.gov/grtlakes/bnsdocs/merchealth/
New York State Department of Environmental Conservation – Dental recycling information:
http://www.dec.ny.gov/chemical/8513.html
New England Mercury Reduction Program:
http://www.newmoa.org/prevention/mercury/
Reducing Mercury in healthcare guidance:
http://www.hercenter.org/hazmat/mercury.cfm
American Dental Association Best Management Practices for Dental Amalgam Waste:
http://www.ada.org/prof/resources/topics/topics_amalgamwaste.pdf
If you have additional ideas for reuse or recycling, please send your suggestions to: hazmat@columbia.edu and environment@columbia.edu