Image Carousel with 7 slides
A carousel is a rotating set of images. Use the previous and next buttons to change the displayed slide
Providing expert guidance and timely service to the University Community through our commitment to health and safety. Employing best practices and collaboration, and by building long term relationships, we promote a productive and safety conscious work environment.
EH&S team members at ZI welcoming event 9/13/23
EH&S Welcomes:
Data Analyst: David Raharijao
Director of EH&S (Research Lab Ops): Katie Bolger
Radiation Safety Program Coordinator: Carolina Paredes Nova
Safety Advisor: Hadeline Hanonik
Ride for Velocity on 10/8 including EH&S' own Kathleen A. Crowley and Christopher Pitoscia.
Congratulations to:
- Daniela D'Armetta, Manager for Training and Development for 10 years of service with EH&S!
- Sofia Ioannidou, Senior Health Physicist, on achieving the Diplomate, American Board of Medical Physicists (DABMP) Certification!
EH&S celebrated our annual Gobblefest 11/15/23.
During normal business hours, please use the below contacts:
Morningside Campus (MS)/ Manhattanville (MV) : (212) 854-8749
Medical Center (CUIMC): (212) 305-6780 & (212) 305-0303 (Radiation Safety)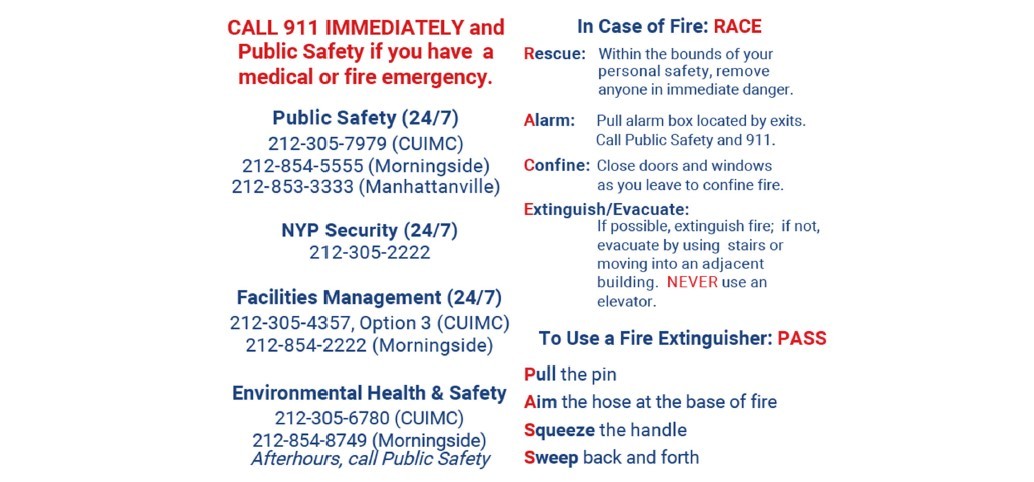 Mission Statement 
Columbia University is committed to establishing and maintaining a healthy and safe work environment for our staff, students, neighbors and surrounding communities. Through the recognition, evaluation, and control of personal and environmental hazards, the University strives to eliminate individual risk and reduce the environmental impact of its activities. EH&S offers a broad range of services and actively develops partnerships with faculty and departmental personnel to ensure a safe work environment and compliance with University policy and applicable regulations in the most efficient manner possible. These endeavors are realized through programs such as personnel training, chemical hygiene plan, biological safety, environmental safety, fire safety, occupational safety, and asbestos and lead management in compliance with local, state and federal regulations.
Goals:
Setting an example for effective health and safety programs;
Minimizing risk of exposure to hazardous chemical, physical or biological agents;
Minimizing risk of work related injury and illness;
Minimizing risk to the environment; and
Realizing these goals with a minimum burden on education and research activities.