Personal Protective Equipment (PPE)
Columbia University's Personal Protective Equipment Policy addresses the use of PPE in all University laboratories & support areas. The Policy is designed to ensure that the University's research & teaching community understand proper PPE selection, PPE use and maintenance, and meet established safety standards.
The appropriate use of PPE is critical in reducing exposure to laboratory hazards and represents the last line of defense against potential exposure.  PPE is provided at no cost to affected personnel and used whenever the potential for occupational exposure exists. In most instances, the minimum level of PPE for laboratory personnel consists of a lab coat, gloves, and eye protection.
The PPE Hazard Assessment Tool is a complement to the Policy for Personal Protective Equipment in Research Laboratories (PPE Policy) and is designed to help identify potential hazards to laboratory personnel and assist in appropriate PPE selection. This document is to be used for all laboratory activities performed in Columbia University laboratories and laboratory support areas.
PPE selection should be based on known and/or reasonably anticipated risk(s) posed by hazardous materials used in the laboratory, in conjunction with the procedures, processes, tasks and equipment in which they are used. The hazard assessment must also take into consideration where the material will be used and the duration of use; all in consultation with the PI, Lab Supervisor or designated PPE Responsible Party.
The PPE Hazard Assessment Tool is now available for completion electronically via an online individual Laboratory Assessment Tool and Chemical Hygiene Plan (LATCH) module, custom tailored by and for each laboratory. The PPE Hazard Assessment Tool can also be completed as an editable PDF via the link below and submitted to Research Safety at [email protected]: PPE Hazard Assessment Tool PDF.
EH&S Research Safety Specialists are available to work directly with laboratories in completing the PPE Hazard Assessment and in consulting on specific issues, such as choosing the most appropriate chemical-resistant gloves. This can take place both during annual laboratory safety surveys and upon request. Please contact [email protected] to schedule a time to review these materials with a Research Safety Specialist.
A lab coat is required to be worn by all personnel in a research laboratory whenever there is the potential for exposure to hazardous materials.  They must be changed immediately if they become contaminated and they must not be worn outside of the laboratory.  Keep coats buttoned to prevent entrapment in equipment. Liquid resistant (vinyl, rubber, depending on particular compound in use) aprons supplement lab coats for activities with an elevated splash potential. Fire-resistant lab coats made from materials such as Nomex or Kevlar are recommended for applications involving pyrophoric materials or very large amounts of flammables. Grossly contaminated lab coats should be bagged and disposed as hazardous, and when appropriate radioactive waste. Lab coats must not be taken home for cleaning. 
Glove Guides
Please note: it is important to use the selection guide provided by the manufacturer of the gloves used in your laboratory or work area.  There is no one glove to protect against all chemical hazards.
An example glove guide is shown below; users of different glove brands can find manufacturer-specific guides by searching the web for the specific brand, and the words "glove guide".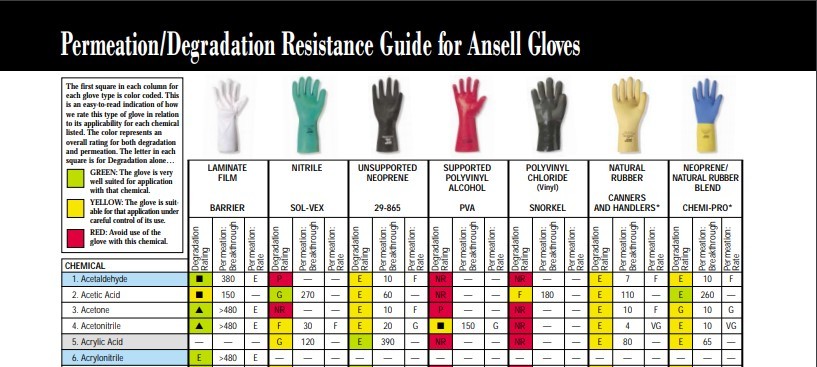 Approximately 8% of health care workers have been sensitized to latex rubber proteins or the chemicals used in manufacturing the gloves.  EH&S can provide information on substitutes for latex gloves that provide the same level of barrier protection as latex without putting the wearer at risk for sensitization.  Always use non-powdered gloves regardless of the glove material used. Latex proteins adsorbed onto airborne powder increase the risk of sensitization and can exacerbate pre-existing allergic symptoms.
---
How to Use and Remove Gloves
Donning Gloves
Select the proper glove(s) for the type of work and potential hazards.
Check for visible tears and other defects.
Remove rings and other jewelry if they may rip gloves.
Protective ability diminishes as gloves are worn due to stretching and abrasion; change gloves regularly or as soon as possible if they are overtly contaminated.
Wash hands immediately before donning gloves.
Never reuse disposable gloves.
Doffing Gloves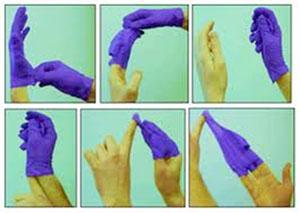 Grasp the exterior of one glove with your other gloved hand.
Carefully pull the glove off your hand, turning it inside-out.
Ball the glove up and hold in your other gloved hand.
Slide your ungloved finger into the opening of the other glove.
Carefully pull the glove off your hand, turning it inside out again.
Discard appropriately.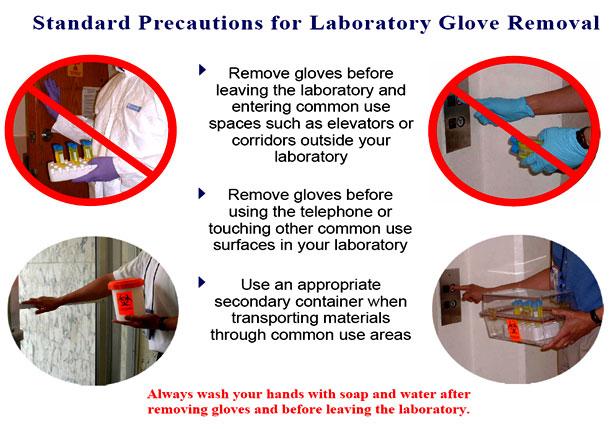 EH&S Guidance on the use of contact lenses in the lab
Disposable Ear Plugs 
Made of dense foam
May come joined by cord to prevent loss
Lightweight, comfortable, easy to fit
Using Disposable Ear Plugs
Wash hands
Roll and compress ear plug into a point
Reach over head and pull ear up and back
Insert plug into ear and hold in place until it expands
Care of Disposable Ear Plugs
Discard if foam doesn't expand to fill ear canal
Discard if dirty or after each use
Reusable Ear Plugs                                                         
Made of flexible rubber or silicone
May come joined by cord to prevent loss or as headband
Easy to put in and take out many times a day
Using Reusable Ear Plugs
Wash hands
Reach over head and pull ear up and back
Insert plug into ear
For headband: gently pull apart, release plugs into ears
Care of Reusable Ear Plugs
Wash plugs in soap and water
Discard if torn or warped or if headband breaks
Muffs                                                                                       
Cushions filled with foam or liquid
May come attached to a hard hat
Difficult to wear with glasses or over hair that covers ears
Using Muffs
Push hair away from ears
Place cushions over ears
Press cushions to create a seal around ears
Wear headband over top of head, not around neck
Care of Muffs
Wipe cushions clean with damp cloth and soap
Don't modify headband or cushions
Replace cushions if torn, replace headband if bent
For detailed information in hearing protection and to assess if a job function requires such protection please contact the office of Environmental Health & Safety for assistance.
In general, research laboratory work processes do not require specialized protective footwear.  However, there may be instances where laboratory personnel are required to wear disposable shoe covers. For example when working with blood or other potentially infectious materials and where it is reasonable to anticipate that such materials will contact the feet.
Shorts or short skirts and sandals or open-toed shoes must not be worn in the laboratory.  Good laboratory practices require that personal clothing or the equivalent, such as scrubs, should cover all exposed skin.  It is also important to avoid loose, dangling jewelry that may get caught in equipment or make incidental contact with hazardous materials.  It is strongly recommended that laboratory personnel have a change of clothes and shoes at work to change into as needed.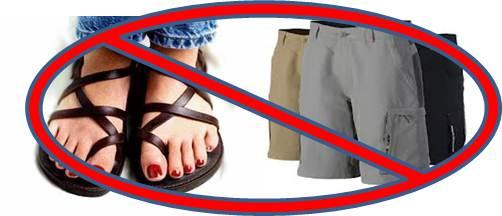 In addition to understanding the appropriate uses of various types of PPE, it is equally important to realize that all PPE items have limitations that should be considered in making a selection.  Please note, PPE should never be used as a substitute for proper engineering and administrative controls or prudent work practices, but only as an additional measure of protection once all other reasonable precautions have been taken.
Additional Information
Non-disposable lab coats must be laundered on a regular basis to ensure they are clean for laboratory personnel to wear.  Lab coats must not be taken home for laundering under any circumstances to avoid contaminating personal clothing and laundering equipment. Columbia University maintains several approved vendors that can provide and launder lab coats on a rental basis. As an example, the cost of outfitting a laboratory of 10 people with two lab coats each with regular laundering services can be as affordable as $150 annually. A current list of approved vendors can be found on the Columbia University Finance Portal at http://finance.columbia.edu/content/uniforms.
The PI and/or Department is responsible for providing lab coats and a means to launder them and should select a preferred vendor and establish an account.  An alternative option chosen by some departments is to install a washer and dryer to facilitate onsite laundering.  Contact Facilities to discuss this option.
If you are a small laboratory and find it difficult to obtain vendor services please consider the following:
What arrangements, if any, has your department made?

Do they already have a contract with an approved vendor?
Do they have access  to a washer and dryer dedicated for lab coat laundering?

What are laboratories on your floor or in your building doing?
Collaborate with other laboratories and cost share the vendor contract.
For assistance choosing the appropriate type and quantity of lab coats for your laboratory, please contact your Research Safety Specialist.