Use and Management of Controlled Substances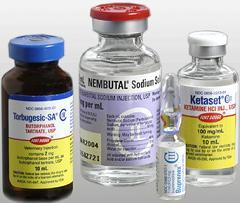 The acquisition, use and disposal of controlled substances in New York State are strictly regulated by the New York State Department of Health (NYS DOH) Bureau of Narcotic Enforcement and the United States Department of Justice Drug Enforcement Administration (US DEA).  These regulations are aimed at preventing diversion of controlled substances through a variety of administrative and physical controls.  To assist researchers in understanding and meeting their individual obligations under these regulations, Columbia University has established a Policy for the Acquisition, Use and Disposal of Controlled Substances in Research
In addition to the Policy, several Appendices, Resources and Reference Documents have been prepared to assist researchers in navigating the requirements for controlled substances.   
Important Notice: Appendix I submission Instructions

Effective February 2011, Purchase Orders for controlled substances must be accompanied by copies of the purchasers" DEA Registration, New York State License, and their RASCAL training certificate. The Rascal training certificate can be obtained by completing the Rascal module "Controlled Substance Use and Management in Research" (TC0502). Purchasing will not be able to process purchase orders without all accompanying documentation.  Please review the Controlled Substances Policy for additional details.
Bienniel (every 2 years) inventories must be available for inspection or transmission to State or Federal authorities at all times.  The 'start date' is the day on which initial DEA registration received.  Refer to section 8. RECORDKEEPING, in the Controlled Substances Policy for additional details.